"Raising Resilient Children: Prioritizing their Mental Health" was held on June 4th 2017 at Beth Emet The Free Synagogue in Evanston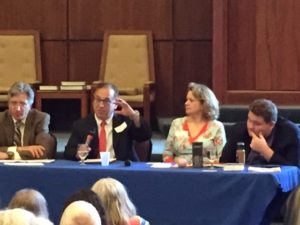 Our 2017 plenary panel
(Dr. Mark Reniecke, Dr. Louis Kraus, Christine Walker, and Schuyler Walker)
The conference was opened by RABBI ELEANOR SMITH, MD.
KRAUS MD, DIRECTOR OF CHILD PSYCHIATRY AT RUSH UNIVERSITY MEDICAL CENTER; ASSOCIATE PROFESSOR OF CHILD AND ADOLESCENT PSYCHIATRY AT RUSH MEDICAL CENTER
"CHILDREN CAN BE AMAZINGLY RESILIENT WHETHER FROM TRAUMA, DEVELOPMENTAL DELAYS, EDUCATIONAL STRUGGLES OR MENTAL ILLNESS. THEY ARE YOUNG AND FRAGILE. PREVENTION AND EARLY INTERVENTION IS KEY TO HELPING OUR CHILDREN." DR. KRAUS
MARK REINECKE Ph. D., PROFESSOR AND CHIEF PSYCHOLOGIST, DIVISION OF PSYCHOLOGY, DEPARTMENT OF PSYCHIATRY AND BEHAVIORAL SCIENCES, FEINBERG SCHOOL OF MEDICINE, NORTHWESTERN UNIVERSITY
"RESILIENCE: THE ABILITY TO RESPOND TO LIFE'S TRAVAILS WITH POISE AND CONFIDENCE IS AMONG THE MOST VALUABLE GIFTS." DR. REINECKE
CHRISTINE WALKER, MPPA, FOUNDER OF CHASING HOPE FOUNDATION ESTABLISHED TO ASSIST FAMILIES LIKE HER OWN WHO ARE RAISING A CHILD WITH AUTISM AND RELATED BRAIN DISORDERS
SCHUYLER WALKER, AT 16 IS A SEASONED ADVOCATE HAVING MADE SEVERAL TRIPS TO SPRINGFIELD AND WASHINGTON TO HELP OFFICIALS BETTER UNDERSTAND ISSUES OF MENTAL HEALTH, SPECIAL EDUCATION AND BRAIN RESEARCH
TIFFANY MASSON Psy. D., DEAN OF THE CHICAGO SCHOOL OF PROFESSIONAL PSYCHOLOGY, CHICAGO CAMPUS WILL MODERATE THE DAY.
FOLLOWING THE PANEL PRESENTATIONS AND QUESTION AND ANSWERS, THERE WILL BE 19 DISCUSSION GROUPS DEALING WITH ISSUES THAT AFFECT CHILDREN ON A DAILY BASIS LED BY EXPERIENCED PROFESSIONALS.
DEPRESSION AND ANXIETY, GRIEF AND LOSS, HOW VIOLENCE AFFECTS THEIR LIVES, EARLY CHILDHOOD, HOW SCHOOLS CAN HELP WITH CHILDREN'S BEHAVIORAL AND EDUCATIONAL NEEDS, THE POSITIVE ROLE OF COMMUNITY CONNECTIONS, COPING WITH THOUGHTS AND EMOTIONS, CHILDREN WHO LEARN AND SEE THE WORLD DIFFERENTLY, A CHILD'S EXPERIENCE WITH A MILITARY PARENT, THE ROLE OF PEERS, ALLOWING YOUR CHILD TO TAKE RISKS, DIGITAL KIDS, SPIRITUALITY, STRAIGHT TALK ON DRUG USE AND SEXUALITY,THE ROLE OF PEERS, BUILDING CULTURAL COMPETENCE IN THE AFRICAN AMERICAN COMMUNITY, LATINO COMMUNITY.
AT LAST YEAR'S CONFERENCE, ONE OF THE ATTENDEES WROTE: I WALK INTO BETH EMET AND THE VERY AIR IS BREATHING PLEASANTLY AND IT IS TRULY A DAY WITH WORDS OF RIGHTNESS. BEING THERE AND HEARING SO MANY WORDS SPOKEN THAT CAUSES HEARTS TO SING IS A HAPPINESS WORTH MANY DAYS AND NIGHTS OF WAITING.
IT WAS AN AMAZING BLESSING TO HAVE BEEN AT SUCH AN EVENT.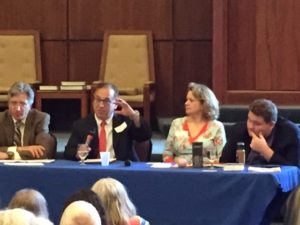 In response to numerous requests from participants, we have included RABBI ELEANOR SMITH, MD. remarks below.
Opening Remarks