"Raising Resilient Children: Prioritizing their Mental Health" was held on June 4th 2017 at Beth Emet The Free Synagogue in Evanston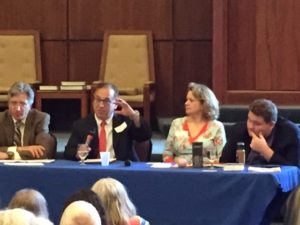 Our 2017 plenary panel
(Dr. Mark Reniecke, Dr. Louis Kraus, Christine Walker, and Schuyler Walker)
The conference was opened by RABBI ELEANOR SMITH, MD.
KRAUS MD, DIRECTOR OF CHILD PSYCHIATRY AT RUSH UNIVERSITY MEDICAL CENTER; ASSOCIATE PROFESSOR OF CHILD AND ADOLESCENT PSYCHIATRY AT RUSH MEDICAL CENTER
"CHILDREN CAN BE AMAZINGLY RESILIENT WHETHER FROM TRAUMA, DEVELOPMENTAL DELAYS, EDUCATIONAL STRUGGLES OR MENTAL ILLNESS. THEY ARE YOUNG AND FRAGILE. PREVENTION AND EARLY INTERVENTION IS KEY TO HELPING OUR CHILDREN." DR. KRAUS
MARK REINECKE Ph. D., PROFESSOR AND CHIEF PSYCHOLOGIST, DIVISION OF PSYCHOLOGY, DEPARTMENT OF PSYCHIATRY AND BEHAVIORAL SCIENCES, FEINBERG SCHOOL OF MEDICINE, NORTHWESTERN UNIVERSITY
"RESILIENCE: THE ABILITY TO RESPOND TO LIFE'S TRAVAILS WITH POISE AND CONFIDENCE IS AMONG THE MOST VALUABLE GIFTS." DR. REINECKE
CHRISTINE WALKER, MPPA, FOUNDER OF CHASING HOPE FOUNDATION ESTABLISHED TO ASSIST FAMILIES LIKE HER OWN WHO ARE RAISING A CHILD WITH AUTISM AND RELATED BRAIN DISORDERS
SCHUYLER WALKER, AT 16 IS A SEASONED ADVOCATE HAVING MADE SEVERAL TRIPS TO SPRINGFIELD AND WASHINGTON TO HELP OFFICIALS BETTER UNDERSTAND ISSUES OF MENTAL HEALTH, SPECIAL EDUCATION AND BRAIN RESEARCH
TIFFANY MASSON Psy. D., DEAN OF THE CHICAGO SCHOOL OF PROFESSIONAL PSYCHOLOGY, CHICAGO CAMPUS WILL MODERATE THE DAY.
FOLLOWING THE PANEL PRESENTATIONS AND QUESTION AND ANSWERS, THERE WILL BE 19 DISCUSSION GROUPS DEALING WITH ISSUES THAT AFFECT CHILDREN ON A DAILY BASIS LED BY EXPERIENCED PROFESSIONALS.
DEPRESSION AND ANXIETY, GRIEF AND LOSS, HOW VIOLENCE AFFECTS THEIR LIVES, EARLY CHILDHOOD, HOW SCHOOLS CAN HELP WITH CHILDREN'S BEHAVIORAL AND EDUCATIONAL NEEDS, THE POSITIVE ROLE OF COMMUNITY CONNECTIONS, COPING WITH THOUGHTS AND EMOTIONS, CHILDREN WHO LEARN AND SEE THE WORLD DIFFERENTLY, A CHILD'S EXPERIENCE WITH A MILITARY PARENT, THE ROLE OF PEERS, ALLOWING YOUR CHILD TO TAKE RISKS, DIGITAL KIDS, SPIRITUALITY, STRAIGHT TALK ON DRUG USE AND SEXUALITY,THE ROLE OF PEERS, BUILDING CULTURAL COMPETENCE IN THE AFRICAN AMERICAN COMMUNITY, LATINO COMMUNITY.
AT LAST YEAR'S CONFERENCE, ONE OF THE ATTENDEES WROTE: I WALK INTO BETH EMET AND THE VERY AIR IS BREATHING PLEASANTLY AND IT IS TRULY A DAY WITH WORDS OF RIGHTNESS. BEING THERE AND HEARING SO MANY WORDS SPOKEN THAT CAUSES HEARTS TO SING IS A HAPPINESS WORTH MANY DAYS AND NIGHTS OF WAITING.
IT WAS AN AMAZING BLESSING TO HAVE BEEN AT SUCH AN EVENT.
Full Brochure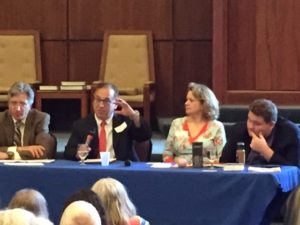 In response to numerous requests from participants, we have included RABBI ELEANOR SMITH, MD. remarks below.
Download PDF
The 2017 community mental health conference laid a strong emphasis on raising resilient children. Developmental theorists have described the importance of psychosocial stages, childhood experiences, attachment, and the prevalence of resources that can give a holistic view of a child's life. However, with the increasing rate of trauma, oppression, marginalization, and inadequacy of resources in numerous communities, children are faced with more adversity with every passing day.
Our presenters included Dr. Louis Kraus, Women's Board professor, Chief of Child and Adolescent Psychiatry at Rush University Medical Center, and Director of AARTS Center who has also served on the board of the American Psychiatry Association; Dr. Mark A Reinecke who is a professor in the Department of Psychiatry and Behavioral Sciences and Chief of the division of Psychology at Northwestern University; and Christina Walker, founder of the Chasing hope foundation that is dedicated to assisting families who are raising children on the autism spectrum. Together, they addressed child and adolescent psychiatry and discussed clinical interventions, the role of the law and education, and the importance of advocacy, treating depression, anxiety, and suicidality among children and adolescents, as well as the quality of care while catering to children with special needs.
Smaller discussion groups that were moderated by licensed clinicians created an environment for intimate conversations about numerous subjects ranging from depression and anxiety in children, the intersectionality of mental health with gender and sexual identity, building cultural competence while working with people of color to the power of spirituality, and alcohol and substance use and more.
The conference saw the participation of close to 100 organizations that provide services to diverse communities across race, ethnicity, gender, ability status, and age. This provided a platform for the clinicians to network with one another, discuss the services provided by their agencies and gave room to a collaboration of ideas and approaches developed from a social justice lens. With the support of pillars like NAMI, Thresholds, Trilogy, the American Foundation of Suicide Prevention, Eating Recovery Center and more, the conference succeeded in unifying the community of mental health care.
We would like to express our gratitude to the members of the Conference Planning Committee, without whose help, the conference would not be possible:
Aaron Schwartz: Private Practice Therapist
Ann Ohlrogge Johnson: The Samaritan Counseling Center
Anthony Chambers: The Family Institute
Andi Stone: Insight Behavioral Health Centers
Arlene Coustan: Private Practice Therapist
Beth Holzhauer: Womencare Counseling Center
Blair McAnany: Rogers Behavioral Health
Bradley Stolbach: Comer Children's Hospital
Brittney Bolden: The Family Institute
Candy Malina: Thresholds
Candice Hughes: The Chicago School of Professional Psychology
Charlotte Mallon: Private Practice Therapist
Charles  Jaffe: Rush University Medical Center
Christine Somervill: NAMI-Cook County North Suburban
Cindy Brue: Rush University Medical Center
David Daskovsky: Yellowbrick
David Fireman: Center for Grief Recovery
Dorothy Williams: Mental Health Professional
Eric Crabtree-Nelson: Harold Washington College
Eric Proescher: Jesse Brown VA Hospital
Evonda Thomas Smith: City of Evanston
Harvey Kelber: Illinois Counseling Association
Harvey Saver: Mental Health Professional
Helen Hurry: Family Focus
Hollie Sobel: Private Practice Psychologist
Jeff  Zacharias: New Hope Recovery
Jenny Kelber: Private Practice Therapist
Jessica Hutchison: Mental Health Professional
Jill Persin: Jewish Reconstructionist Congregation
Jodie Segal: Elyssa's Mission
John Calamari: Rosalind Franklin University
Judy Schiffman: Barr-Harris Children's Grief Center
Lara Schuster: Insight Behavioral Health Center
Larry Cohen: Founder
Marilyn Cohen: Founder
Mark Reinecke: Northwestern University Feinberg School of Medicine
Mary Ellen Poole: Housing Options
Mayra Chacon: Center for Latino Mental Health
Mojgan Makki: Rush University Medical Center
Nancy Sussman: Mental Health Professional
Nina Henry: JCFS Jewish Center for Addiction
Paula Young: The Family Institute
Patricia Doyle: Vision for Change
Peggy Kubert: Erika's Lighthouse
Peter Illing: Jesse Brown VA Hospital
Rachel Revivo: Mental Health Professional
Sharon Weingarten: Mental Health Professional
Steven Colton: NAMI-CCNS
Susan Shimon: Thresholds
Sylvia Corcoran: Private Practice Therapist
Sue Laue: Public Relations Professional
Tom Laue: Public Relations Professional
Tiffany Masson: The Chicago School of Professional Psychology
Terri Michaels: North Suburban Special Education District
Tom Golebiewski: Private Practice Therapist
Vanessa Allen-Graves: Family Focus
Virginia Goldrick: Chicago Read Mental Health Center
Willis Francis: Heartland Alliance