"It's Tough Enough";
Adolescent Mental Health in Our Changing World
Walk-Ins Welcome! You may still join us in person on Sunday, June 12. Prior to entering the conference you will be asked for proof of Covid-19 vaccination or negative test (home test results not accepted). Checks and credit cards will be accepted. Please arrive by 9:30am to allow time for registration.
When:
Sunday June 12, 2022, 9am-4pm
Where:
Evanston Township High School
1600 Dodge Ave
Evanston, IL 60201
View on Map
(Panel will be Live Streamed for free but requires registration)
Who Should Plan to Attend?
Anyone in the community who cares for or about adolescents, including parents, teachers, coaches, individuals and families directly affected by mental health concerns, and mental health professionals (Up to 5 CE/CEUs available, by selecting this add on during the registration process). Teens 14-18 also welcome!
Cost? Registration is $45 for adults, free for teens 14-18. Partial and full scholarships available. CEUs are $25. (Note: While PayPal may appear to be your only option, simply click on the green "Complete your order" button and you will be taken to the payment screen where you can enter a credit card).
Panel Presentation Info: One of the few things everyone can agree on is that kids aren't supposed to die. And yet, one out of five high school students reports thoughts of suicide (Ivey-Stephenson et al., 2020). One out of 12,500 high school students dies by suicide (Ivey-Stephenson et al., 2020). If we want a world where youth feel like their lives are worth living, we can't have a society that says that some lives are worth more than others. Join us for a better understanding of how we move from suicide prevention to building a world that all our youth want to live in.
This presentation will also speak about the procedures that schools have put in place to help students during the pandemic. However, the pandemic has not affected all students equally. This presentation will discuss how structural racism intersects with the pandemic and what schools are able to do for students and staff during that time.
Through lived experience, this presentation will also discuss intergenerational trauma in immigrant families between cultures, how it affects first-generation, and it carries on to later generations.
2022 Annual Conference Panelist Information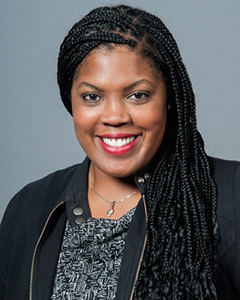 Keeshawna Brooks, PhD, NCSP, LP
Dr. Keeshawna Brooks is an assistant professor and associate department chair of The Chicago School of Professional Psychology's School Psychology program. Dr. Brooks is also the owner of Keys To Care Psychological Services, LLC. She is a licensed school and clinical psychologist and earned her PhD in School Psychology from Loyola University Chicago in 2018. She has previously worked as a survey researcher for a federal contractor, as a school psychologist in Washington D.C. public charter schools, and as a private practice psychology associate in Maryland. Her research interests include the intersection of racial identity, ecological systems and academic performance as well as social justice in school psychology. She currently serves on the editorial board of the Journal of Educational and Psychological Consultation and previously served as an Illinois School Psychology Association (ISPA) student representative.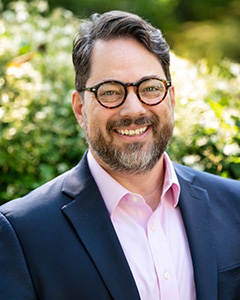 Jonathan B. Singer, PhD, LCSW
Dr. Singer is a Professor of Social Work at Loyola University Chicago, Past-President of the American Association of Suicidology, and coauthor of the 2015 Routledge text, Suicide in Schools: A Practitioner's Guide to Multi-level Prevention, Assessment, Intervention, and Postvention. Dr. Singer is a well-regarded international speaker who has given hundreds of continuing education workshops, keynote addresses, and presentations on youth suicide, ethics, technology, adolescent development, and attachment-based family therapy in the USA, Latin America, Asia, and Europe. He is the author of over 75 publications and his research has been featured in national and international media outlets like NPR, BBC, Fox, Time Magazine, and The Guardian. Dr. Singer is a pioneer in the integration of technology and social work and the founder and host of the award-winning Social Work Podcast (www.socialworkpodcast.com), the first podcast by and for social workers. He lives in Evanston, IL with his wife and three children.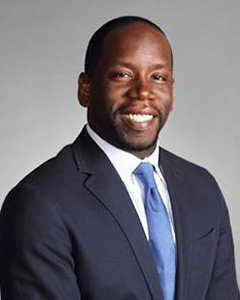 Marcus A. Campbell, EdD
Dr. Campbell has served as the Assistant Superintendent/Principal at ETHS since 2013. As the assistant superintendent of District 202, Dr. Campbell is responsible for providing leadership in the development of district strategy and organizational change, including effective instructional practices, impactful diversity and equity initiatives, and responsive programs and services. He provides administrative leadership to carry out the Board's Equity and Excellence Mission Statement and oversees the implementation of all District equity transformation programs, training, and initiatives to help improve the overall school culture for all students and to eliminate barriers to the equitable education of students from underrepresented backgrounds. His goal is to effectively engage students, staff, parents, the Board and members of the community; clearly articulate the goals and priorities of the District and Superintendent; and build support for the District's mission while increasing pride and trust in the school.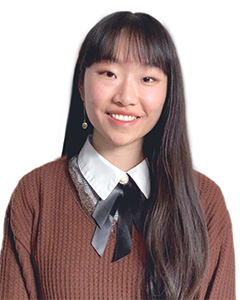 Emily Her
Emily Her is a management consultant from the University of Chicago's class of 2021, born and raised in the Bay Area, California. Despite being an "always happy-go-lucky" top student and graduation speaker of her competitive high school, her internal conflicts and trauma brought suicide attempts leading to a psychiatric hospitalization at age 16. Throughout her 21 years, Emily has been diagnosed with various disorders including Depression, Anxiety, Anorexia, Obsessive-compulsive disorder, and Borderline personality disorder. Because of these defining experiences and disorders, she hopes that she can give back to the world by sharing a raw vulnerability that shows we are never as alone as we think. Her book, "Everything I Leave Behind for You", is a reflection on the lessons she has learned through her mental health challenges and healing. Emily is a strong voice for young adults in the conversation about raising mental health awareness in professional workplace and competitive education settings: her story demonstrates that what one shows on the outside may not be what they feel on the inside, and the importance of recognizing and reconciling the complicated voices within all of us.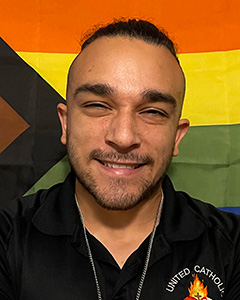 James Holzhauer-Chuckas, ObSB
James Holzhauer-Chuckas, ObSB is an Oblate of the Benedictine Order. James grew up and lives with his partner, Denisse, in Evanston. He went to Gordon Tech High School, and then to John Carroll University and DePaul University, where he studied religious studies and non-profit administration. Since then, he has worked professionally with many organizations including the McGaw YMCA, Evanston/Skokie School District 65, and Kids Playing Camp. James currently serves in the Archdiocese of Chicago as Senior Director of United Catholic Youth Ministries, has earned certification in many areas including LGBTQIA+ advocacy, camp administration, and is a certified diversity practitioner by the Society for Diversity. Most of James' personal and professional life involves working with young people. Currently, he aspires to earn a Master of Social Work to become a licensed clinical social worker, believing strongly in the relationship between good mental health and youth development as critical in today's world.