Despite unforeseen challenges, the NRCI team worked to bring you a conference promised a year earlier. Six speakers joined us virtually on Sunday, June 13th to discuss how Covid-19 has affected the world in quieter, more psychological ways than the more immediate and publicized threats that impacted us day to day.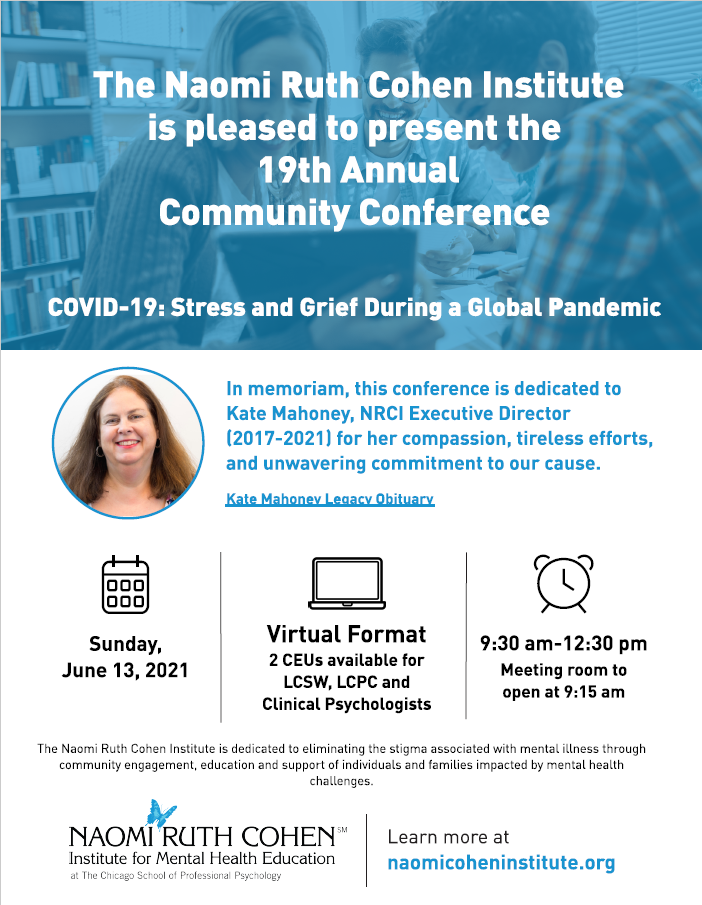 Reverend Dr. Michael C.R. Nabors, Senior Pastor
Pastor Nabors leads the 139 year old Second Baptist Church in Evanston, Illinois with a goal to "address modern day issues through personal and spiritual growth." His work with social justice advocacy in Evanston and Metro Chicago, and facilitating Race Talk Solidarity Circles in local communities, follows the Church's mission to care for souls and work collaboratively to accomplish much to the glory of God.
Michele Nealon, Psy.D., President, The Chicago School of Professional Psychology
As University President, Dr. Nealon has led TCSPP since 2010, directing campuses across the country and educating more than 6,000 students in the fields of Psychology and Behavioral Sciences. With core values of Education, Innovation, Service and Community, TCSPP is one of the most successful non-profit graduate schools in the nation.
Larry and Marilyn Cohen, NRCI Founders
Larry and Marilyn Cohen founded the Naomi Ruth Cohen Institute in honor of their daughter, Naomi, who suffered from Bi-Polar Disorder and died in 2000. They have dedicated the last 19 years working to reduce the stigma associated with mental health issues through education, research and community outreach. The Cohen's efforts have helped countless individuals and families to access the necessary treatment and support they deserve.
Moderator, Michael M. Kocet, PH.D., LMHC, NCC, ACS
Dr. Kocet is Professor and Department Chair of the Counselor Education Department at The Chicago School of Professional Psychology in Chicago, Illinois. Dr. Kocet earned his Ph.D. in Counselor Education from the University of Arkansas. He is a licensed mental health counselor, a Board Certified Counselor, and an Approved Clinical Supervisor.
Serena Wadhwa, Psy.D., LCPC, CADC, RYT, CCTP
Dr.Wadhwa is a psychotherapist and professor at Governors State University. Dr. Wadhwa enjoys a variety of roles as a consultant, creator, presenter, trainer, radio talk show host, stress coach, yoga instructor, blogger and author. Her Website is www.drserenawadhwa.com
Jillian Blueford, Ph.D., LPC, NCC, CT
Dr. Blueford is a facultymember at The University of Denver and is the Chair of Grief Competencies Task Force for the American Counseling Association. Her clinical professional background includes working in a variety of settings such as a hospice bereavement center, a psychiatric behavioral hospital, and as an independent counselor for the Tennessee Department of Children Services.
David Fireman, MSW, LCSW
Mr. Fireman is the Executive Director of the Center for Grief Recovery and Therapeutic Services in Rogers Park, Illinois. He also holds a psychotherapy practice grounded in self and depth psychologies. His extensive background helping others grows out of a sincere respect for inherent individual differences, social learning, the interplay of Love and Loss, and finding purpose and meaning.
Michael Catania
Mr. Catania's extensive career in education includes work with the Illinois Board of Higher Education, learning centers, and teaching and tutoring. While spending time in the hospital due to COVID, Michael forged a special relationship with one of the ER physicians who helped save his life. He later collaborated with that doctor to spread the word about COVID through social media with the goal of helping others.
If you could not join us this year, don't worry: you can view the full conference for for free down below: