Every year, the Naomi Ruth Cohen Institute for Mental Health Education holds a community mental health conference. We are proud to share that this year was our seventeenth conference. The focus of this year's conference was on 'Older Adults Mental Health: Opportunities and Challenges.' This topic aligns with the institute' is dedicated to reducing mental health stigma by providing support, resources, and hope to those who struggle with mental illness and to those who support them.
We believe this year's conference was a success, with over 300 attendees. The conference was designed to not only inform and teach the public about older adults' mental health, but also to provide opportunities to network with others within the community, and identify resources to enhance the quality of life for older adults, their family members, neighbors, friends, and other caregivers. Our sentiment of success was shared by our participants, as 57% rated the conference as "excellent", 28% stated "very good," 12% reported "good," and 3% rated it "fair." One community member shared that they "learned about the aging process and mental health issues, nutrition, and wellness," another mental health professional shared that they learned new information about current research, prevention, and healing techniques. Many participants reported that they can used the information gathered to integrate into their "personal and professional lives."
The conference was held on Sunday, June 3rd, from 9:00 a.m. – 4:00 p.m. Since its inception, the conference has been held at the Beth Emet Synagogue; however, due to renovations, this year's conference was held at the Roycemore School in Evanston. We would like to thank Roycemore School for kindly welcoming us to their space. A participant shared that it was a "very nice facility for this kind of event, bright, cheery, and adequate parking."
The doors opened at 9am, where individuals could register, enjoy fresh coffee and bagels, and gather information and resources from the numerous exhibits. At 10am the plenary panel welcomed participants to the conference. Participants stated that it was "terrific" and a "very inspirational panel."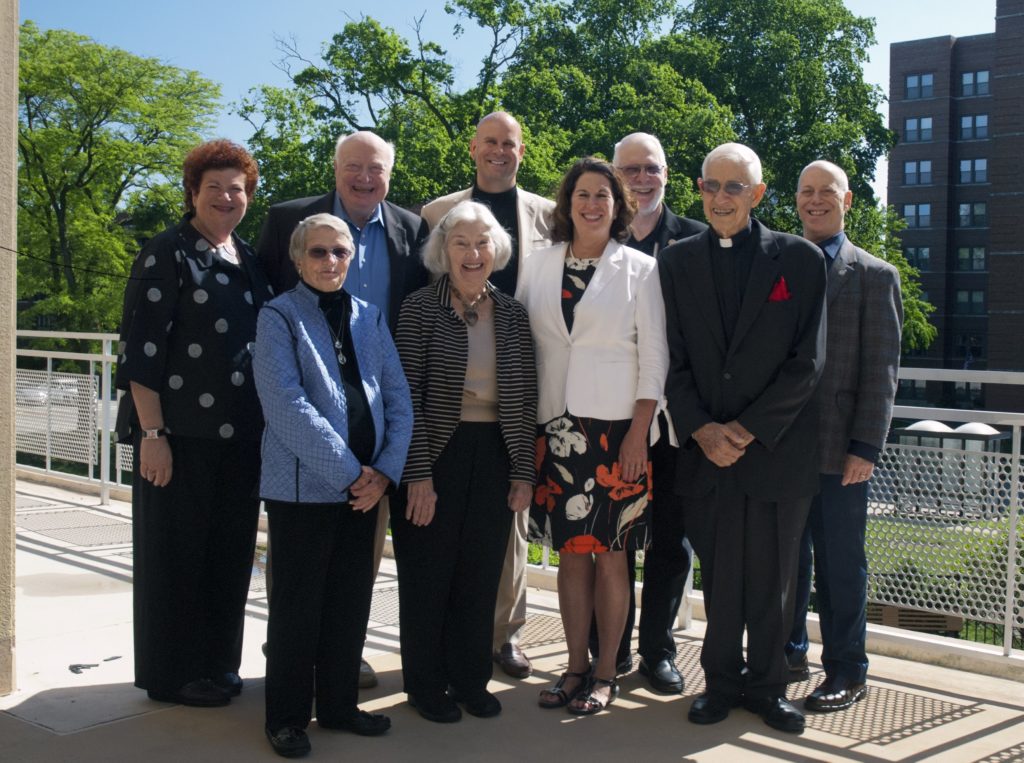 Pictured above are (back row l to r) Robyn Golden, Larry Cohen, Jeffrey Rediger, Stanley G. McCracken, Michael Horowitz
(front row l to r) Nancy Carstedt, Marilyn Cohen, Margie Martyn, Father Robert Oldershaw
The panel was moderated by Robyn Golden, MA, LCSW, ACSW who serves as the Associate Vice President of Population Health and Aging at Rush University Medical Center in Chicago. Robyn also holds academic appointments in the Departments of Medicine, Nursing, Psychiatry, and Health Systems Management, and is responsible for developing and overseeing health promotion and disease prevention, mental health, care coordination, and transitional care services for older adults, family caregivers, and people with chronic conditions. In the words of our participants, "Robyn did a great job moderating!" 99% of participants rated her as excellent, good, or very good.
The first panelist to present was Jeffrey Rediger, MD, Masters in Divinity, who is on the faculty at Harvard Medical School and serves as the Chief of Behavioral Medicine at Caritas Good Samaritan Medical Center. Dr. Rediger flew in from Boston to share with us advances in integrative medicine and effective approaches to addressing older adult mental health. We were honored to have Dr. Rediger's share his innovative approaches to holistic health, which have gained national attention though publications and appearances on the Oprah Winfrey and Dr. Oz shows. Numerous participants stated that they would have liked more time to hear Dr. Rediger. One participant shared that the concepts and research discussed was "most intriguing and applicable to work with clients." 96% of participant rated him as excellent, good, or very good.
The second panelist was Dr. Stanley G. McCracken, PhD, LCSW, RDDP, who is a lecturer at the University of Chicago, School of Social Service Administration. He has forty years' experience as a clinician, educator, and consultant and has published on mental health and older adults for the National Center for Gerontological Social Work Education. Dr. McCracken regularly consults with Rush University Health and Aging and Road Home Programs, Lake County Veterans and Families Service Foundation, and Asian Human Services. Once again, participants stated that they would have liked more time to hear Dr. McCracken discuss the topic of Wisdom, within the context of older adults' mental health. 98% of participants rated him as excellent, good, or very good.
The third and final panelist was Nancy Carstedt, the Executive Director of NAMI, Cook County North Suburban. We were honored and humbled to have Nancy join our panel to share with us her personal recovery journey. Her story captured the audience like no other. Nancy demonstrates incredible courage and resilience, and is truly an inspiration. A participant shared that "the most profound aspect of the conference was hearing Nancy talk." 100% of participants rated her excellent, good, or very good.
After each panelist presented, there was an opportunity for participants to ask questions, which generated rich, fruitful discussions. Upon closure of the plenary panel, it was time for everyone to have a break, stretch their legs, collect their lunch, and get to their discussions groups. Each participant had the opportunity to attend two discussion groups, each being 1 hour and 15 minutes long. The 19 discussion group topics included Managing Anxiety and Depression as We Age, How to Thrive as a Caregiver-Challenges, Supports, Resources & Rewards, Aging with Dignity: Self-Care Across the Life Span, Spirituality and Aging, Coping with Loss… Embracing Change, Going it Alone: Finding the Support You Need When You are on Your Own, Differentiating Depression, Dementia, and Delirium, Mindfulness and Chair Yoga for Older Adults and Caregivers, Grief and Loss in Older Adults, Aging in the LGBTQ Community, Improving the Well-Being of Aging Veterans, Planning for Adult Children with Mental Illness, and Other Special Needs, Medications & Substance Use, How Much Stuff is Too Much Stuff-What to do When Overwhelmed by Our Possessions, Developmental Issues in Aging, Integrative Medical & Mind-Body Solutions For Managing Chronic Pain, Multicultural Perspectives on Aging, Becoming a Super Ager, and The Impact of Aging on Family Dynamics. Numerous participants shared that they wished they could attend more than two discussion groups. Other participants reported that the "discussion groups were great," "incredible resources," "useful tools," "good conversation," 'better understanding," and helpful "handouts."
The conference wrapped up at approximately 4pm where participants finished up with their last discussion group, and were granted an opportunity to share feedback on our conference evaluation, to see where we can improve for next year. So, thank you to everyone who took the time to share your thoughts with us, we sincerely appreciate it.
Lastly, we would like to take this time to say thank you to each and every one of you who attended this year's conference, it would not have been the same without you. And of course, a special thank you to our sponsors, panelists, and discussion leaders, because this all would not have been possible without your ongoing support. We look forward to seeing you all next year for our 18th Annual Community Mental Health Conference, where we will be addressing the integration of physical and mental health.