NRCI prides itself in its work with students of all ages, and this has been visible in its continued work throughout the community.  Throughout the 2013-2015 school years, NRCI has worked tirelessly to bring mental health education programming to middle schoolers and high schoolers through partnerships with Girls in the Game, Evanston Township High School, and Erie Neighborhood House.  Working closely with The Chicago School of Professional Psychology, NRCI has brought experts in the field of psychology to share their ideas and experiences with graduate students here at the school, providing students with real-world advice and guidance..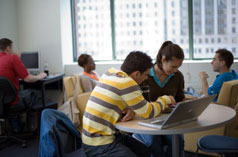 Dr. Maureen Keeshin has partnered with Lakeview High School and Amundsen High School to deliver mental health education training to high school juniors and seniors.  Under the supervision of Dr. Keeshin, Counseling Psychology students will deliver presentations on the challenges of transitioning into Life After High School, the symptoms and effects of depression, prevention and management of text anxiety, and how to support friends and family with mental health issues.  Chicago School students will also explore the stigma related to these topics in an effort to teach awareness, prevention, and coping skills.  NRCI is looking forward to another year of working with Lakeview and Amundsen staff, teachers, and students; a great partnership!
Spring 2012
A TCSPP student worked with youth at an Evening Reporting Center (ERC).  ERCs are alternative to detention facilities for youth who have involvement with the Court.   The presentation addressed coping with aversive conditions in schools (e.g., walking through gang turfs between home and school, violence in school, peer pressure to use drugs).   There was a discussion about the aversive conditions that youth face in school, the impact of not doing anything to deal with the stress (e.g., increase in stress, anxiety, frustration, anger) and the benefits of effective coping (e.g., feelings of safety, control, self-efficacy).  As a group activity, the youth created a bookmark with tips on effective coping. For instance, they decided on the colors (non-gang related), the tips on coping, and the layout of the bookmark.   The participants then reflected on the self-identified coping efforts, their motivation to integrate the skills into their daily lives, as well as the benefits to disseminating this information to other youth in need of support.     TCS later put together their design of the bookmark including their effective coping tips and returned to the ERC to give the youth their bookmarks for them to keep and to distribute.    On the back of the bookmark were resources, including TCS Forensic Center, NRCI, and crisis hotline numbers.   The ERC roster of youth were low on the day of the presentation (three youth).  However, we plan to add this activity each semester as part of the Community Engagement course.
Fall 2011
Four TCSPP students developed workshops on coping with parental incarceration among minority youth in two groups:  6-11 and 12-18.  Stressors of dealing with a parent who is currently incarcerated or returning home from incarceration were discussed.  Signs of trouble were also discussed (i.e., sadness, anxiety, anger) and the youth shared their personal stories.  Discussions also focused on what gets in the way of seeking help.  The workshop ended with discussing the benefits to seeking help and resources available that included the Naomi Ruth Cohen Institute for Mental Health Education.  The youth were given a bookmark with the resources (NRCI, TSC Forensic Center, National Runaway Switchboard). The youth completed Satisfaction Surveys.